What to Write in a Wedding Card
By:
Emma Fiander, Editor, AllFreePaperCrafts.com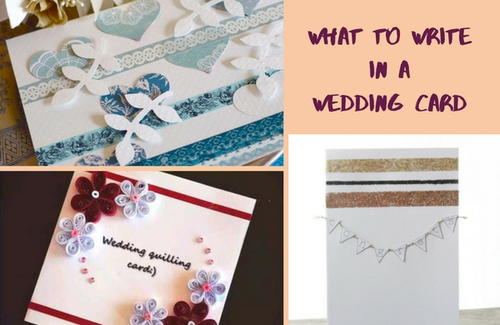 If you've been invited to a wedding, there is one thing you absolutely have to do. Regardless of whether you're able to attend,  what kind of gift you bring, or your relationship with the couple, you must send wedding wishes. There are no hard and fast rules on the etiquette of wedding cards beyond one: if you've received an invitation, a wedding card is expected. The rest of the details are up to you.

If you're unsure of when to send the card, Renee Halgerson from Hitch Studio recommends following the 30/60 rule. That is, a good time frame for sending a wedding card is between 30 days before the wedding and 60 days after. It is also perfectly acceptable to bring it with you to the ceremony. As for What to Write in a Wedding Card, that is entirely up to you, though feel free to keep reading for some essential tips and inspiration for wedding day wishes.
Formal Wedding Messages
Before you start thinking that just because you were invited to a black tie wedding, what you write in your card has to be equally formal, just know that your card doesn't have to strictly match up with the theme of the wedding. Casual cards are just as welcome at a formal wedding as formal cards are welcome at a more casual affair. As Elena Donovan Mauer from The Knot says, "If you want to write a nice message that's timeless and romantic, a formal note is the way to go."

Examples

1. "Feeling so much joy for the two of you as you join your lives in marriage!"

2. "It's such an honor to witness your vows and be among those to wish you a beautiful beginning."

3. "We offer you our warm congratulations on your big day."

4. "Wishing every happy blessing to the new [Mr. and Mrs. Davis] on your special and beyond."

5. "Thank you for letting us share in this joyful day. We wish you all the best as you embark on this wonderful union."
Funny Wedding Wishes
If a formal card isn't really your style, a funny note is perfectly acceptable. However, there are a few things to keep in mind before you put your pen to paper. First of all, a few things are always off limits: no divorce jokes, for example. You should also avoid insulting one or both parties, which includes referring to one of them as the "better half," advises Elena Donovan Mauer. Definitely keep everything appropriate; a wedding card is not the place to display your "edgy" sense of humor. 

Examples

1. "Our marriage advice to you: Never go to bed angry, part each day with a kiss, and never hang wall paper together!" 

2. "Thanks for inviting us to eat and drink while you get married. Congrats!"

3. "It's really something special when you've found that one special person you want to annoy for the rest of your life."

4. "Thanks for the free booze. Best wishes on a long, happy marriage!"

5. "Getting married is like becoming a child all over again. Be prepared to learn where to put your towel, how to keep the bathroom clean and organizing your clothes in the closet. Congratulations."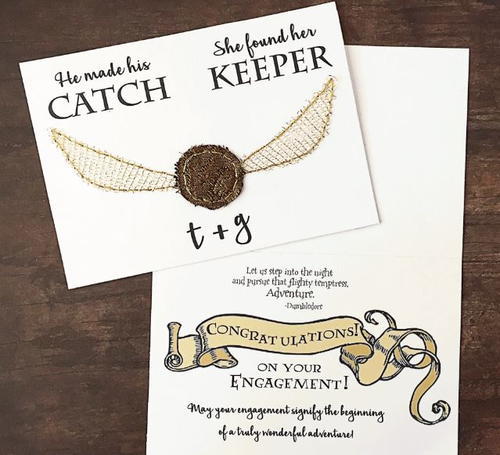 Religious Wedding Notes
Religious themed well-wishes can be beautiful sentiments, but there are a few things to consider before you decide to use one. First of all, think about what you know about the couple and tailor your response to that. If they're the kind of people who attend weekly services and can easily quote from their religious text of choice, they would probably welcome a spiritual note. However, if that doesn't seem quite their style, it might be best to go easy on the religious references. Similarly, if they practice a different faith than your own, you'll want to make sure you address that should you go the religious route. Remember, this is their big day, so it's their beliefs that matter in this situation. 

Examples

1. "May the One who brought you together bless your marriage, enrich your lives and deepen your love throughout the years."

2. " 'God has poured out His love into our hearts.' – Romans 5:5"

3. "Mazel Tov! May the joy that is yours today always fill your life."

4. "May Allah bless you and your union."

5. "Rejoice in your love for each other! God bless you now and always."
Welcome to the Family
Whether it's your sibling, parent, child, or distant relative, chances are at some point you will attend the wedding of one of your family members. As someone who is already part of the family, it's your duty to make your relative's new partner feel welcome. Of course, what you write depends on your relationship to the couple. If it's your brother or sister, your card will tend to be more light-hearted and funny than if it's your child who is getting married, in which case you might choose to be more serious and sincere. Whatever the situation, do your best to make the newest addition to your family feel the love.

Examples

1. "[Alexis], welcome to our crazy family! [Mateo], what a lucky guy you are. Congratulations and lots of love to you both."

2. "Together, you're going to be such a blessing to our family. All our love to you both as you join your lives in marriage."

3. "We love you both. Today I gain a new sibling and I couldn't be happier!"

4. "Lots of love and happiness to you both on this exciting and joyful day for our family."

5. "We are thrilled to add one more member to the family today. Welcome, [Sasha]!"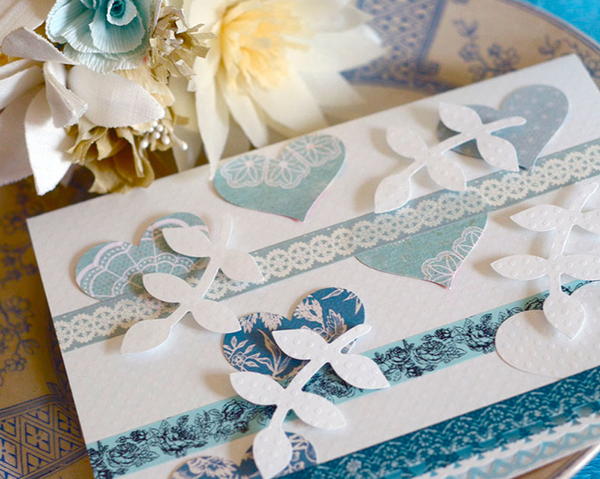 What to Say When You Don't Know What to Say
There are a number of reasons you might not know exactly what to say to the happy couple. Maybe you simply don't know the people getting married very well, which is perfectly understandable. It's possible, however, that you do know the couple and your feelings might not all be positive. You don't want to be negative on their big day, but you also don't want to sound insincere. A few ways to navigate the tricky territory include thanking the couple for inviting you to their wedding and wishing them happiness in the future, Keely Chace from Hallmark suggests.

Examples

1. "Thank you for inviting me to be part of your big day!"

2. "Wishing you a happy future together."

3. "We're thrilled to be celebrating with you!"

4. "[Katya], I'm so happy you found someone to share your life with."

5. "Wishing you nothing but success and happiness in your marriage."
Beautiful Wedding Card Quotes
If you're worried your own words just don't do the day justice, feel free to borrow from someone who said it better!

Examples

1. "Love doesn't make the world go round, love is what makes the ride worthwhile." — Elizabeth Browning

2. "The best thing to hold onto in life is each other." —Audrey Hepburn

3. "All you need is love. But a little chocolate now and then doesn't hurt." — Charles Schulz

4. "Love never claims, it ever gives. Love ever suffers, never resents never revenges itself."  — Gandhi

5. "We're all a little weird, and life's a little weird. And when we find someone whose weirdness is compatible with ours, we join up with them and fall in mutual weirdness and call it love." — Dr. Seuss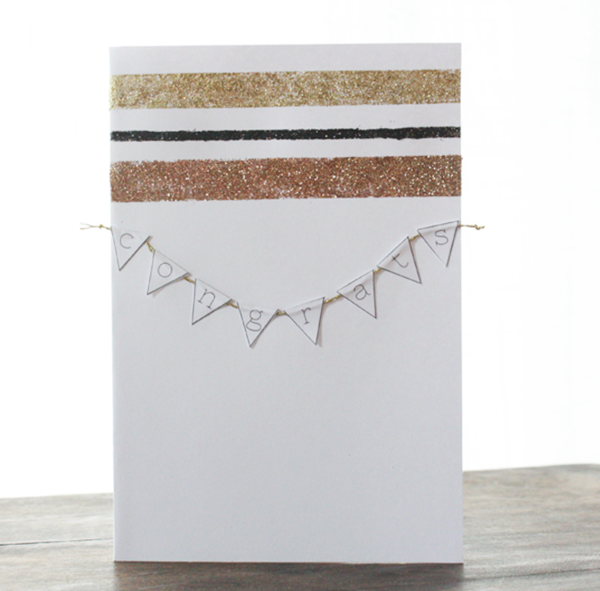 DIY Wedding Card Ideas
If you want to go the extra mile and make your own wedding card to send to the happy couple, here are some card making tutorials to get you started.
Free projects, giveaways, exclusive partner offers, and more straight to your inbox!
Tags / Related Topics
Your Recently Viewed Projects
Images from other crafters


Something worth saving?
SAVE your favorite projects
ADD personal reminder notes
QUICKLY reference your projects