Glossary of Different Types of Paper
Become a paper craft expert after learning about all the different types of paper there are and how to use them.
By:
Dana Byerwalter, Editor, AllFreePaperCrafts.com

Updated July 28, 2023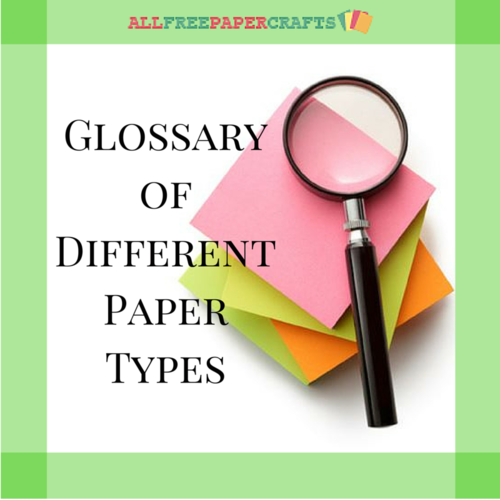 Are you new to paper crafting? You may be surprised to discover the enormous array of paper types out there. The Glossary of Different Types of Paper will help you decide which kinds of paper to use for any upcoming projects. Find out whether your project may require thin tissue paper or heavy paperboard.

Learn how the weight of cardstock is measured and use this system to determine which card stock is right for your current project. You'll also find smooth paper types and textured paper listed in this glossary. Get inspired to start a new project with something from this list of different types of paper and the projects shown below.

If you like these paper crafts and want to see more, then don't forget to sign up for the AllFreePaperCrafts newsletter, The Paper Post.

For more great projects like this, subscribe to our free email newsletter!
Overview of The Glossary of Different Types of Paper
The paper types below are often measured by lb (although there are a few different ways to measure paper, such at pt.), and the different weights tend to correspond with different thicknesses of paper. The lb measurement refers to the weight of 500 sheets of paper measuring a standard size before being cut down. The sizes are as follows:
Bond or Writing: 17" x 22" (cut to 8.5" x 11"). Standard weight is 20 lb, with 16 lb as a lighter alternative and 24 lb as the heavier. Common for letterheads, photocopier paper, and laser printer paper.
Book: 25" x 38". Weights vary from 30 lb Bible stock (very thin and mostly used for Bibles specifically) to a maximum of around 115 lb. This classification is most common for posters, catalogs, booklets, and publication magazines.
Text: 25" x 38". These typically range from 60 lb to 100 lb. Stationery papers tend to come in text weight.
Cover: 24" x 36". This is a heavier grade paper that ranges from 60 lb to over 100 lb. It is used most often for postcards, business cards, etc.
Sources Cited: 
California Paper Goods, The Paper Library
With this knowledge on hand, explore the list of different types of paper below, almost all of which fall into these four categories.
TIP!
 Click on any of the image links below to get to the project tutorial!
Paper Crafts: Different Paper Types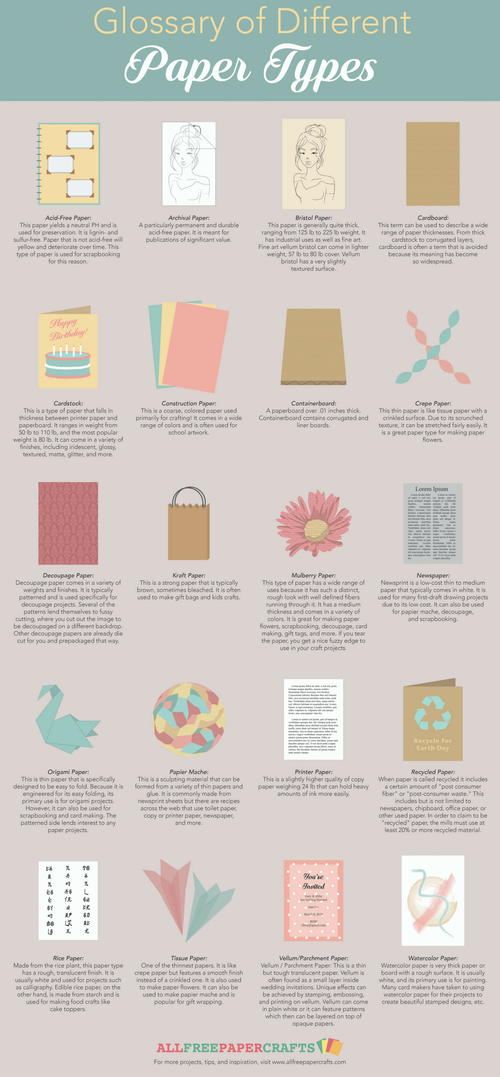 Acid-Free Paper
This paper yields a neutral PH and is used for preservation. It is lignin- and sulfur-free. Paper that is not acid-free will yellow and deteriorate over time. This type of paper is used for scrapbooking for this reason.
Archival Paper
This is a particularly permanent and durable acid-free paper. It is meant for publications of significant value.
Bristol Paper / Vellum Bristol
This paper is generally quite thick, ranging from 125lb to 225lb weight. It has industrial uses as well as fine art. Fine Art Vellum Bristol can come in a lighter weight, 57lb to 80lb cover. Vellum Bristol has a very slightly textured surface.
Cardboard
Card Stock
This is a type of paper that falls in thickness between printer paper and paper board. It ranges in weight from 50 lb to 110 lb, and the most popular weight is 80 lb. It is the most popular type of paper used in the crafts on AllFreePaperCrafts.com, especially in card making! It can come in a variety of finishes, including iridescent, glossy, textured, matte, glitter, and more.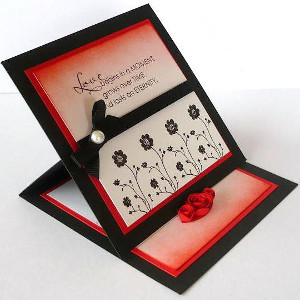 Chip Board
Containerboard
This is a paperboard over .01 inches thick.
Copy Paper
This paper is typically used for printing documents. It is thinner than printer paper, weighing about 20 lb while printer paper is 24 lb. For this reason, it is useful for printing text and should be avoided when printing high-quality images.
Corrugated Cardboard / Corrugated Fiberboard
This material features a fluted corrugated sheet and two flat liners to create the thick board. It is typically brown or white, and many recycled projects feature a corrugated cardboard base. The fluted layer adds texture and interest to a project.
Crepe Paper
Decoupage Paper
Decoupage paper comes in a variety of weights and finishes. It is typically patterned and is used specifically for decoupage projects. Several of the patterns lend themselves to fussy cutting, where you cut out the image to be decoupaged on a different backdrop. Other decoupage papers are already die cut for you and prepackaged that way.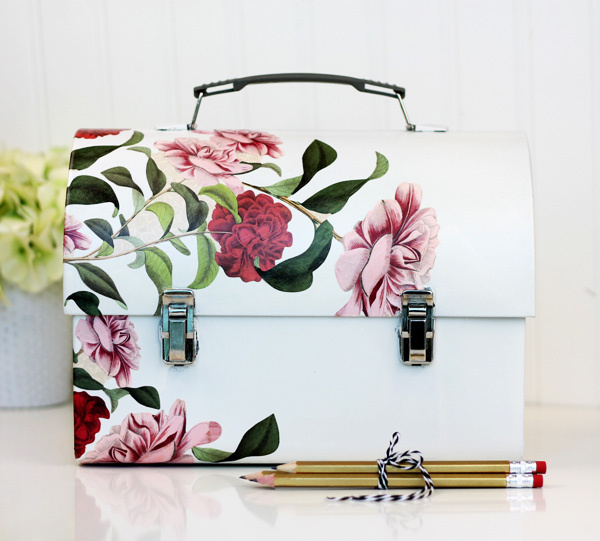 Duplex Paper
Laminated and Printed Duplex papers feature sheets of paper with different patterns/colors/finishes on each side. Laminated Duplex papers can have one textured side and one smooth side, for example. Printed Duplex paper simply means one side is printed a different color, but Laminated Duplex can involve different textures, too.
Kraft Paper
This is a strong paper that is typically brown, sometimes bleached. It is often used to make gift bags and kids crafts.
Lignin-Free Paper
Lignin is the "glue" that binds the cells of a tree and creates its structure. However, in paper, lignin can cause it to alter over time and become unstable. Thus, many manufacturers are now offering lignin free papers for fine artwork and scrapbooking. Acid-free paper is lignin and sulfur-free.
Mulberry Paper
This is paper handmade from the mulberry plant. It is also a term that is given to a wide range of handmade papers because it has a distinct, rough look with distinct fibers running through the papers. It has a medium thickness and comes in a variety of colors. It is great for making paper flowers, scrapbooking, decoupage, card making, gift tags, and more. If you tear the paper, you get a nice fuzzy edge to use in your craft projects.
Newsprint / Newspaper
Origami Paper
This is a thin paper that is specifically designed to be easy to fold. It tends to be patterned on one side and plain on the other, the plain color coordinating with the patterned side. Because it is engineered for its easy folding, its primary use is for origami projects. However, it can also be used for scrapbooking and cardmaking. The patterned side lends interest to any paper projects.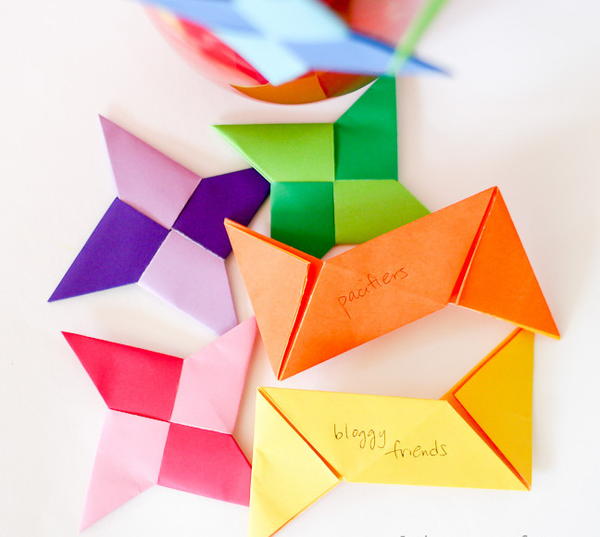 Paper Board
This is a thick paper with a wide range of colors and finishes. It is often used in bookbinding to make the covers.
Papier Mache
Printer Paper
Recycled Paper
When paper is called recycled it includes a certain amount of "post consumer fiber" or "post-consumer waste." This includes but is not limited to newspapers, chipboard, office paper, or other used paper. In order to claim to be "recycled" paper, the mills must use at least 20% or more recycled material.
Rice Paper
Made from the rice plant, this paper type has a rough, translucent finish. It is usually white and used for projects such as calligraphy. Edible rice paper, on the other hand, is made from starch and is used for making food crafts like cake toppers.
Scrapbook Paper
Like decoupage paper, scrapbook papers come in various weights, patterns, and textures. They often measure 12x12, 6x6, 8x8, or 8.5x11 depending on the size of your scrapbook. Scrapbook papers are also often used for card making and decoupage. Many popular upcycled projects feature a cardboard base such as a cereal box with scrapbook paper decoupaged over it. Check out a few of our scrapbook layouts, too!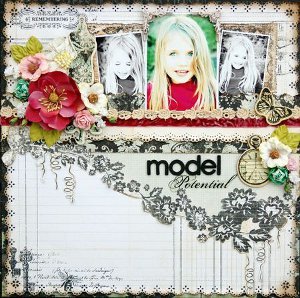 Tissue Paper
One of the thinnest papers, tissue paper is like crepe paper but features a smooth finish instead of a crinkled one. It is often used to make paper flowers. It can also be used to make papier mache and is popular for gift wrapping.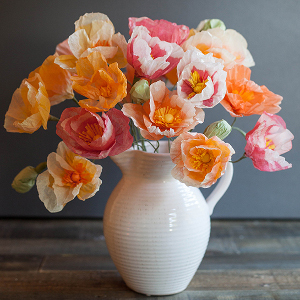 Vellum / Parchment Paper
This is a thin but tough translucent paper. Vellum is often found as a small layer inside wedding invitations. Unique effects can be achieved by stamping, embossing, and printing on vellum. Vellum can come in plain white or it can feature patterns which then can be layered on top of opaque papers.
Washi Paper
This is a handmade paper with long fibers and an uneven surface.
Watercolor Paper
Which paper is used for making greeting cards?
Chances are if you're a card-making fanatic, you've asked this question before. Cardstock is commonly used for greeting cards because of its sturdiness and versatility. It comes in a variety of finishes and its width is between regular copy paper and cardboard, making it stiff but flexible.

To make embellishments for your greeting cards, you can use tissue paper, origami paper, mulberry paper, and decoupage paper to create a variety of smaller details. 
Are we missing any paper types? Tell us below and we will add them to the collection!
Free projects, giveaways, exclusive partner offers, and more straight to your inbox!
Your Recently Viewed Projects
Images from other crafters


Something worth saving?
SAVE your favorite projects
ADD personal reminder notes
QUICKLY reference your projects