What to Write in a Sympathy Card
By:
Krista Childers, Editor, AllFreePaperCrafts.com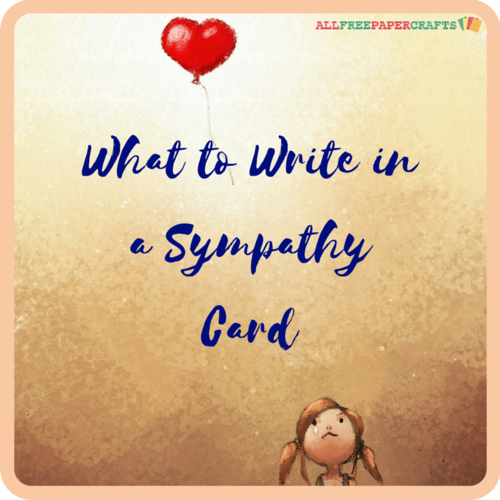 Grieving the loss of someone you love is one of the most difficult things we have to do. Unfortunately, it's a consequence of living. When someone loses a loved one, they depend on their family and friends for support and care in their time of need. Many of us struggle with What to Write in a Sympathy Card or how to tell them that they are in our thoughts and send the proper condolence message. People are never really forgotten if we find ways to remember them in our everyday lives, and that's what we need to remember and convey.

These quotes, messages, and thoughts may help you determine the best way to express sympathy to those who are mourning. These ideas can be altered for personalization about the person you are writing to or about. Many of these can be used for any loss, but they are separated by their fit, with categories including Words of Sympathy for Any Loss, Words of Sympathy for Loss of Mother or Father, Condolence Message for Loss of a Child, Words of Condolence for Loss of a Husband or Wife, Sympathy Card Messages for Loss of Sibling, Condolence Message for a Friend, and Sympathy Sayings for Loss of a Pet.

Table of Contents
Words of Sympathy for Any Loss
Words of Sympathy for Loss of Mother or Father
Condolence Message for Loss of a Child
Words of Condolence for Loss of a Husband or Wife
Sympathy Card Messages for Loss of Sibling
Condolence Message for a Friend
Sympathy Sayings for Loss of a Pet
 
Words of Sympathy for Any Loss
After this section, you will find more specific quotes and sympathy sayings for loss, but these are more general thoughts about loss that will work from and to anyone who needs some special words during this unfortunate time in their lives. Use these beautiful quotes on the front or inside of your card to express your deepest sympathies.
"Our thoughts and prayers are with you during this difficult time."

"What we have once enjoyed deeply we can never lose. All that we love deeply becomes a part of us." - Helen Keller

"We can endure much more than we think we can; all human experience testifies to that. All we need to do is learn not to be afraid of pain. Grit your teeth and let it hurt. Don't deny it, don't be overwhelmed by it. It will not last forever. One day, the pain will be gone and you will still be there." - Harold Kushner

"May your heart find peace and comfort in this difficult time."

"Grief is not a disorder, a disease or a sign of weakness. It is an emotional, physical and spiritual necessity, the price you pay for love. The only cure for grief is to grieve." - Earl Grollman
Words of Sympathy for Loss of Mother or Father
No matter our age, losing a parent is never easy. In many cases, they raised us, took care of us, taught us, and were there for us even after we left home. Mothers and fathers are a child's first love and they remain a large part of us even after they are gone. These thoughts for what to write in sympathy cards are more specific for the loss of a mother or a father.  
"A child can live with anything as long as he or she is told the truth and is allowed to share with loved ones the natural feelings people have when they are suffering." - Eda LeShan

"But she wasn't around, and that's the thing when your parents die, you feel like instead of going in to every fight with backup, you are going into every fight alone." - Mitch Albom

"I thought that I would miss you so, and never find my way. And then I heard the angel say, 'She's with you every day.' The sun, the moon, the wind, the stars, will forever be around, reminding you of the love you shared, and the peace she's finally found." - Unknown

"Say not in grief 'he is no more' but in thankfulness that he was." - Hebrew Proverb

"My heartfelt condolences to you and your family. Your father was an incredible man and he has left us too soon."

"Dad, your guiding hand on my shoulder will remain with me forever." - Unknown
Condolence Message for Loss of a Child
No parent wants to outlive their child. When it does happen, everyone involved is overcome with grief. Words escape us and we are not sure what to say or how to eloquently describe our words of sympathy. These heartfelt sympathy card messages help you to say you're there for them in their time of need.
"And we wept that one so lovely should have a life so brief." - Willam Cullen Bryant 

"The reality is that we don't forget, move on, and have closure, but rather we honor, we remember, and incorporate our deceased children and siblings into our lives in a new way. In fact, keeping memories of your loved one alive in your mind and heart is an important part of your healing journey." - Harriet Schiff

"It has been said time heals all wounds. I do not agree. The wounds remain. In time, the mind protecting its sanity covers them with scar tissue and the pain lessens, but it's never gone." - Rose Kennedy

"A mother holds her children's hands for a while, their hearts forever." - Unknown

"There is no footprint too small to leave an imprint on this world." - Unknown
Words of Condolence for Loss of a Husband or Wife
When people fall in love with a person they want to spend the rest of their lives with, it's a beautiful thing. When a spouse passes on, it's as if half of you has died as well. What we need to remember are the good times and that they will always be in our hearts. These sympathy sayings help give comfort to those mourning the loss of a husband or wife.
"You will lose someone you can't live without,and your heart will be badly broken, and the bad news is that you never completely get over the loss of your beloved. But this is also the good news. They live forever in your broken heart that doesn't seal back up. And you come through. It's like having a broken leg that never heals perfectly—that still hurts when the weather gets cold, but you learn to dance with the limp." - Anne Lamott

Of the widow's countless death-duties there is really just one that matters: on the first anniversary of her husband's death the widow should think I kept myself alive." - Joyce Carol Oates

"In the night of death, hope sees a star, and listening love can hear the rustle of a wing." - Robert Ingersoll

"She meant everything to me. Her laughter, her tears and her joy will remain with me the rest of my life." - William Shatner

"As long as I can I will look at this world for both of us, as long as I can, I will laugh with the birds, I will sing with the flowers, I will pray to the stars, for both of us." - Unknown
Sympathy Card Messages for Loss of Sibling
Growing up with siblings is a special experience. Through good times and bad, they are there as you grow up. No matter when we lose them, it's more difficult than words can often state. Expressing words of sympathy to a brother or sister who is grieving their sibling is made a little easier with these sincere quotes.
"Brothers and sisters are as close as hands and feet." - Vietnamese Proverb

"My sister will die over and over again for the rest of my life. Grief is forever. It doesn't go away; it becomes a part of you, step for step, breath for breath. I will never stop grieving Bailey because I will never stop loving her. That's just how it is. Grief and love are conjoined, you don't get one without the other. All I can do is love her, and love the world, emulate her by living with daring and spirit and joy." - Jandy Nelson

"I was so sorry to hear about your sister's death. I know you were very close to her. You have my deepest sympathies for your loss."

"A brother is a friend God gave you; a friend is a brother your heart chose for you." - Proverb

"Our brothers and sisters are there with us from the dawn of our personal stories to the inevitable dusk." - Susan Merrell
Condolence Message for a Friend
It's been said that friends are the family we choose, which is why a piece of our heart dies when they do. Finding sympathy card messages for a friend or to a friend who has lost someone may be made easier with the following words of condolence. In these times, it's important to remember the good times you shared together. You may cry today but laugh later when you think about the fun adventures you had together or how they were there for you during hard times. 
"When we honestly ask ourselves which person in our lives mean the most to us, we often find that it is those who, instead of giving advice, solutions, or cures, have chosen rather to share our pain and touch our wounds with a warm and tender hand. The friend who can be silent with us in a moment of despair or confusion, who can stay with us in an hour of grief and bereavement, who can tolerate not knowing, not curing, not healing and face with us the reality of our powerlessness, that is a friend who cares." - Henri Nouwen

"On the death of a friend, we should consider that the fates through confidence have devolved on us the task of a double living, that we have henceforth to fulfill the promise of our friend's life also, in our own, to the world." - Henry David Thoreau

"The death of a friend is equivalent to the loss of a limb." - German Proverb
Sympathy Sayings for Loss of a Pet
Pets are family. Even though they can't speak, they express their love in a myriad of ways that make them so beloved. Animals are our furry friends. You may be familiar with the Rainbow Bridge poem, but below you will find other deep thoughts that will help grieving pet owners cope with the loss of a pet.
"Until one has loved an animal, a part of one's soul remains unawakened." Anatole France

"I believe all animals were created by God to help keep man alive." - Iwao Fujita

"Dogs are not our whole life, but they make our lives whole." - Roger Caras

"What greater gift than the love of a cat." - Charles Dickens
Free projects, giveaways, exclusive partner offers, and more straight to your inbox!
Tags / Related Topics
Your Recently Viewed Projects
Images from other crafters


Something worth saving?
SAVE your favorite projects
ADD personal reminder notes
QUICKLY reference your projects